Skip to main content
Searching for the elusive sweet-spot in financial product design
When we design financial services we aim for the place where commerciality, great customer experience and the customer's best interests line up – the sweet-spot in product design.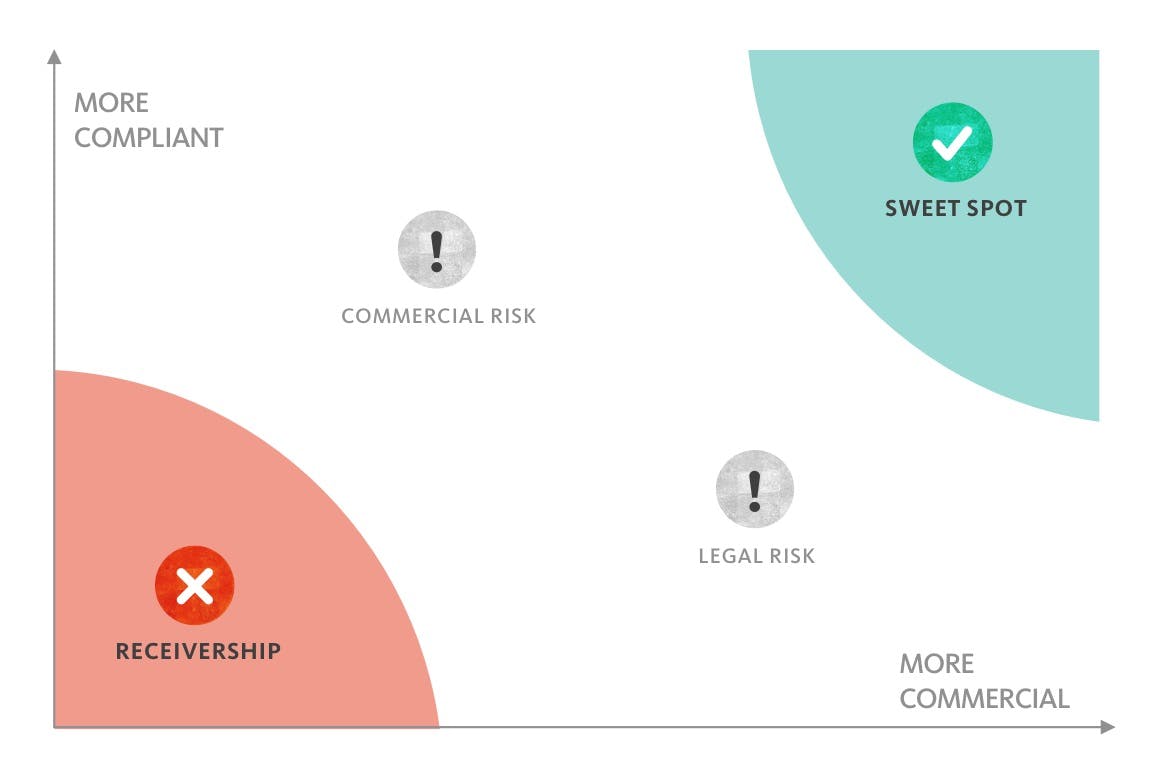 In today's fast moving, competitive, customer-centred market, products that deliver only one or two of those factors don't usually last long.
I'm thinking of:
Wonga: the latest retiree to exit the game;
Atom: whilst still in business, they seem to be struggling to deliver on their early promise;
The many banks who are stuck with dated products and ancient tech and struggling to make a buck (return on equity) a decade after the 2007 financial crisis.
To misquote Meatloaf – "2 out of 3 ain't good!"
When we find that elusive sweet-spot, our clients and their customers get what they need – as does the FCA.
The FCA is super-clear. They don't want customers buying something they don't need, don't understand or can't afford. Compliance flies the flag for the FCA within an organisation, making sure that any new products meet the FCA's standards and are in the customer's best interests.  
We back the FCA and internal compliance teams all the way. Our point of view is that in financial services, a 'good experience' reflects more than a product's purchase journey, it embraces the experience of product ownership too. We believe that a great customer experience can only be achieved when it encompasses the fullest notion of a customer's best interests – the long view – the important difference being that it must address ownership of that product.
When it comes down to the everyday reality of large, complex financial services organisations, is that holy trinity of commerciality, great customer experience and compliance achievable?
Let's look at some of the myths and tensions that exist in a large, traditional Financial Services firm and can derail great product design.
Are commerciality and compliance inevitably at odds?
Talking to many financial organisations you wouldn't think that commercial and compliant could be achieved in the same product. Many tell us that there is tension in their businesses between the commercial and compliance teams – a tension based on a belief that compliance and commercial success are inevitably at odds with one another.

This seems counter-productive, especially when so much of what the FCA is trying to achieve is "to regulate in a way that adds the most benefit to those who use financial services" i.e. the customer. But you can see how it happens.
The FCA is pretty tuned into the needs and capabilities of the FS customer and share their views as guidance. They also issue rules they believe deliver to their strategic outcomes (consumers best interests etc.). They don't discuss how to interpret or implement these rules, but they do carry a very big stick to enforce them.
The only feedback a provider can normally expect from the FCA occurs after a product is launched. If it comes, that feedback is negative. Providers feel the sting of the regulator if they make an error of judgment as well as a willful breach of its rules.
"The FCA doesn't say 'well done'."
The FCA defends this modus operandi by saying they don't want to interfere in the market, stifle innovation or impact competitiveness.
The FCA's unintended double-whammy
Issuing strong rules (strong because the penalty for not following them is severe) without saying how to interpret them leads to some problematic unintended consequences. These pretty much fall into two types:
The first consequence is an inter-organisational tension between the FCA and the provider (because the provider can't get feedback from the FCA about what 'good is'). Many businesses revert to 'safe mode', and play to the letter of the rules – keeping innovation and risk-taking to a minimum. Compliance teams interpret the rules and along with legal support, behave in a way intended to keep the company out of trouble with the regulator. That's their job. Compliance 1, Innovation 0.
Inside a business, this can result in a misalignment between Product/Marketing and the risk-averse Compliance team. Compliance teams are understandably risk-averse because they can't test their reasoning with the FCA as they navigate a sometimes uncertain regulatory space. However, they can and do veto products and marketing initiatives. It's inevitable that in many organisations, when compliance and commercial teams meet, there is often disappointment and disillusionment as innovative, creative or new propositions are vetoed as too risky.
This gives rise to a sense that compliance is implicitly at odds with commerciality; and rather than feeling they are working towards a common goal, it's easy for an adversarial sense to emerge between these teams. This isn't at all healthy for an organisation.
A business's regulatory risk appetite varies, tending to reflect the history that a given provider has with the FCA. For several reasons, challenger brands and newer entrants to the market tend to benefit from closer, better relationships with the FCA. Nonetheless, no organisation is keen to receive the FCA's attention twice.
All this leads away from the idea that a sweet-spot exists, but of course, it does – because at the heart of the FCA's mission is an intent, a spirit if you like, to protect consumers and promote competition in consumers' interest'.
Overcoming these obstacles: an emerging solution
Our aim at cxpartners is to dispel any unhelpful myths and help businesses resolve these tensions so they can deliver great product design.
In the course of our work, we've found that many of these challenges arise accidentally from the way that the FCA engages with the sector. We can't change the modus operandi of the FCA, but we can change the way organisations work to allow them to overcome these obstacles and help them move to a place where the spirit, not just the letter of the FCA's intent is realised. A transformation from defensive to competitive products.
We're evolving a new solution to this product design challenge. We're calling this Evidence Based Compliance - a methodology which when incorporated into financial product and proposition development straightforwardly solves these problems. It's an approach which focuses on the FCA's intent as outcomes and not simply wording.
Evidence Based Compliance principles include:
Treating regulation as an important design parameter alongside technical feasibility, customer needs, business objectives, and budget.
Adapting established user-centred design methodologies to ensure they deliver specific outcomes that the FCA demands from financial products.
This new approach to the product design challenge consciously aligns the sweet-spot factors of commerciality, great customer experience, and the customer's best interests. It gives providers the ability to both innovate and manage regulatory risk.
Contribute to our research
We think we're onto something here. Our Evidence Based Compliance methodology is unblocking design obstacles and helping deliver innovative, compliant products in several large Financial Services organisations right now. But we're not resting on our laurels.
We want to go deeper and learn all we can about the unique set of design challenges that teams in large, complex organisations face when it comes to delivering products in this sweet spot - the drivers and pressures, tensions and view from all angles.
We're conducting ongoing research into the financial product development challenge: Please take our quick survey.
And if you're interested in a conversation about how to apply this approach to your product development process, contact me: Mark Hicks, Experience Strategy Director, cxpartners mark.hicks@cxpartners.co.uk.
Learn more about Evidence Based Compliance