Skip to main content
Putting user needs at the centre of Health & Wellbeing innovation
We are often asked by our clients to help them innovate and evaluate the viability of new propositions from the perspective of the people who will be using them. We thought we'd lift the lid on the approach we take…
The global IoT healthcare tech market is growing rapidly and already offers lots of potential in devices and services. Supporting customers in their health and wellbeing also hits on many of the five big insurance trends for 2018 - for more on this see my recent article how health tech is revolutionising the insurance industry.
We identified a potential for innovation in terms of a personal health and wellbeing eco-system, consisting of a home hub and wearable technology, a 'HealthHub' concept. Our recent project with a global health insurer tackled the key question 'is there value in creating a 'Health Hub' proposition and will it support customer's health and wellbeing?'.
Our innovation approach
Our lean user-centric innovation process is all about making sure that you're designing the right thing in the first place and then going about making it in the right way.
Often the reason why products and services fail is because effort is not spent understanding the underlying problem and needs they address - and therefore things are created that don't solve any real life problems for users.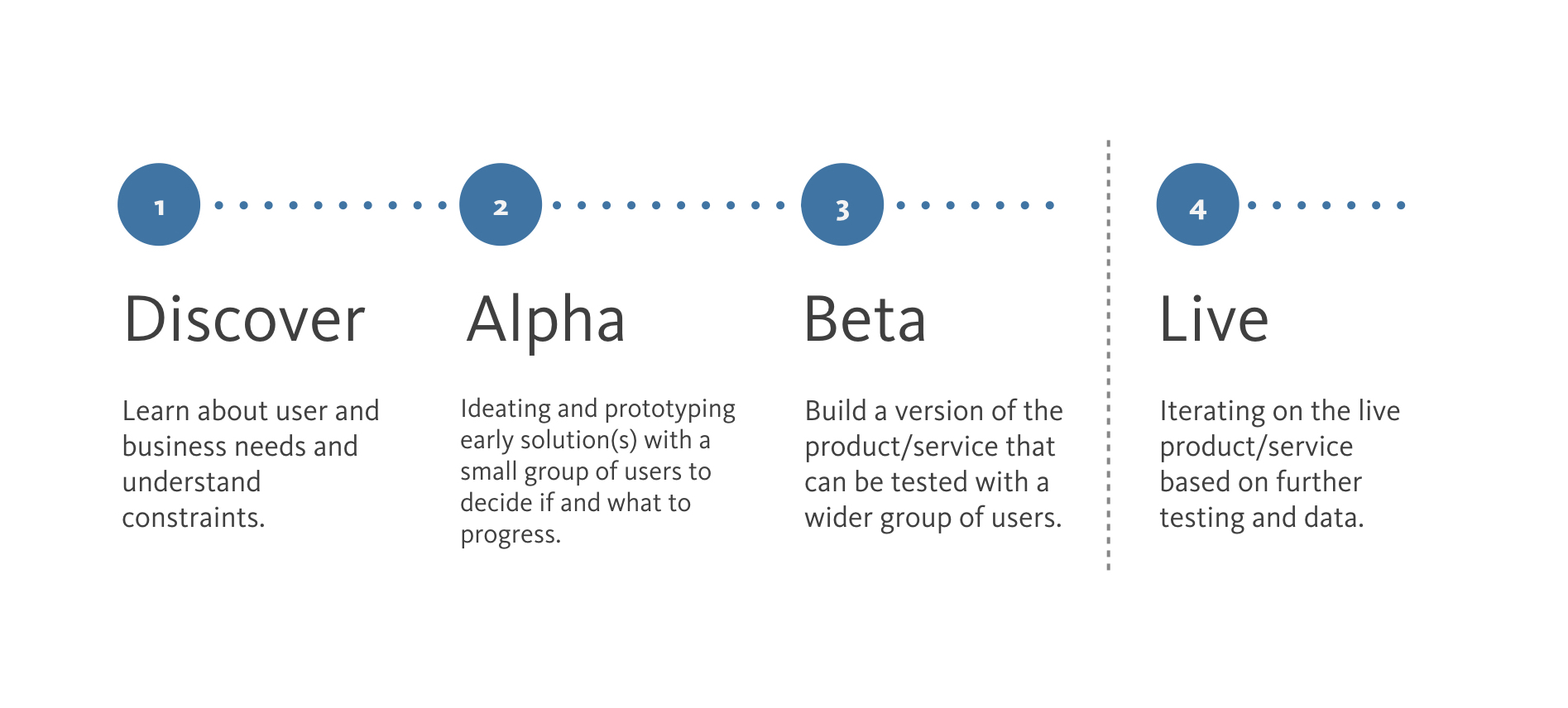 Our process involves developing a series of hypotheses from discovery research, developing and testing Alpha prototype(s) to identify optimal product viability, which will then inform the MVP and create a business case.
If successful, we then move on to the next phases - Beta is an iterated, more sophisticated albeit extremely focused, working version of the product that is tested with a larger invited audience. We get to Live by iterating it again and making it available to all.
Critically, by approaching service and product innovation in this way, our clients are able to reduce the risk of investing in solutions which do not meet customer needs and therefore limit commercial return.
Drawing hypothesis from experience mapping
We arrived at the HealthHub concept by combining our deep understanding of the insurance market with our knowledge of the customer experience and their needs throughout the customer lifecycle.
We drew insight from the Customer Experience Map we created, which pointed towards areas where customers and the business may find value. To determine the value of this concept we focused on the alpha phase, here is an example of the approach we took.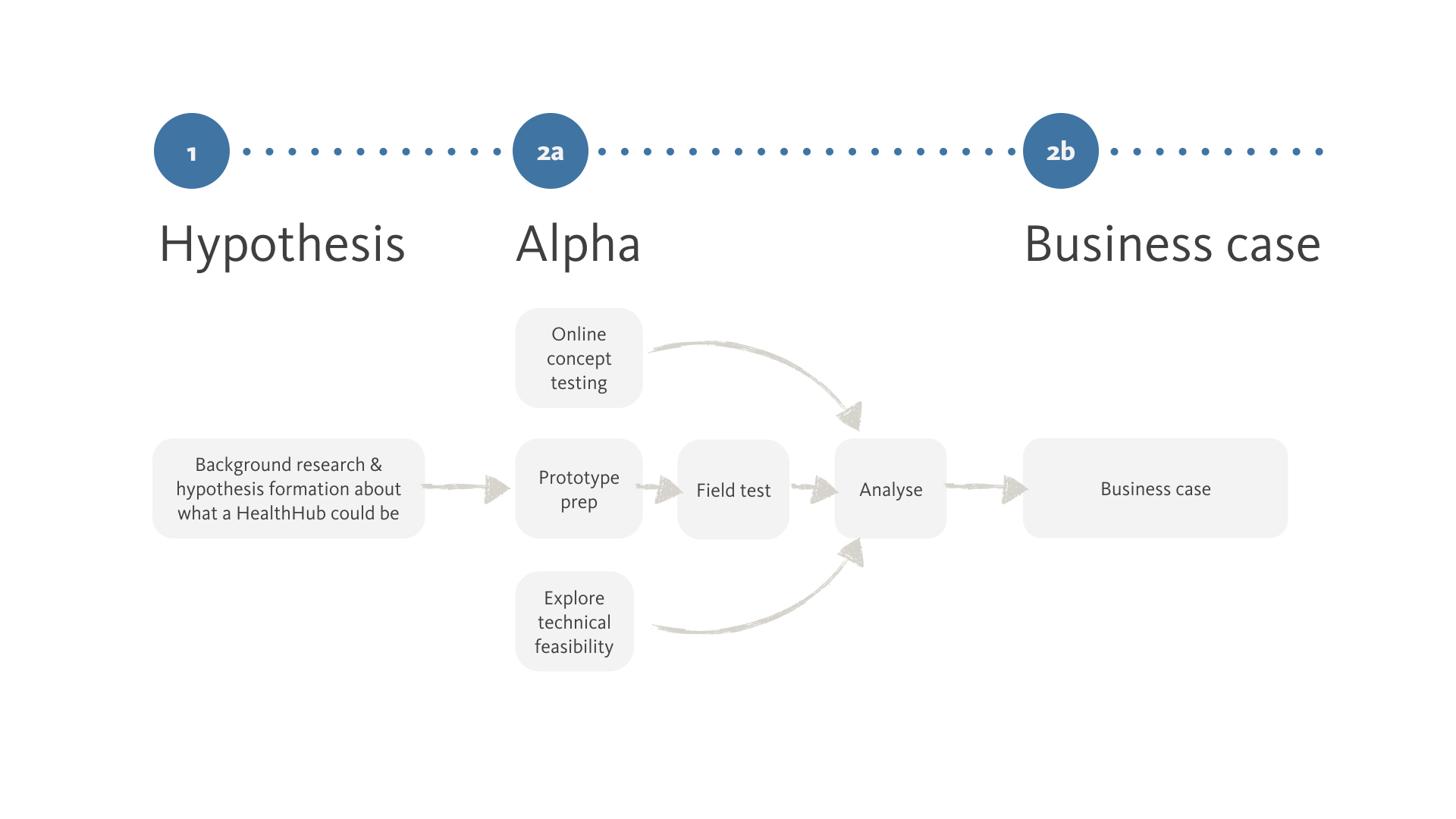 We identified hypothesis around building closer relationships with customers, as a 'health partner', whilst addressing known customer experience pain points and reducing costs.
Can we:
Create through-life value for 'healthy' customers (those who make infrequent contact and claims), by actively supporting their health and wellbeing, and so help to improve retention.
Support customers who have a medical condition to manage their condition and therefore reduce the insurance risk and premiums.
Make policy management tasks easier and quicker to self serve, increasing customers satisfaction and reducing customer service costs.
Building the prototype
We prototyped a home-hub eco-system using the Amazon Echo Show with wearables collecting biometrics (Fitbit and blood pressure cuff).
To do this we created a strong multidisciplinary team from User Experience consultants, Visual designers and a Creative Technologist. Our approach of focussing a cross functional team on a clear set of use cases generated a rich and representative prototype in a surprisingly short period of time. Within a 2 week sprint we were able to get our arms around the new Amazon Echo Show technology and achieved a working prototype of the HealthHub ecosystem with over 20 features to test with customers. We prototyped only to the level of fidelity necessary to establish the insights we needed, at this Alpha stage it is more important to gain insight into users' reactions to the tech rather than investing in building sophisticated solutions.

Trialing prototypes in context
Changing people's behaviour is difficult, but we know that the best way to get a sense of whether this is achievable is to trial possible solutions under those conditions that a mature solution would be expected to operate - so we wanted customers and employees to use our prototypes in their own homes for an extended period of time, and sent all participants their own prototype equipment.
This technology is new to most customers and we really wanted to get a deep understanding of what it's like to interact with it daily over a sustained time-period. The questions we wanted answered were: Are they engaged? Is the technology easy to use? Does it bring value to their lives? (And critically) Could it change their sentiment towards the health insurer?
We set up pre and post trial measures as well as ongoing diary study style assessments and analytics from the Alexa service to help us answer these questions.
Complementing findings with a larger online sample
To strengthen our findings we wanted to compare and contrast insights from the field test with those from a larger sample of customers. To do this, we ran an online evaluation of the concept at the same time. In this test we presented customers with illustrated scenarios of potential features for a HealthHub and asked them to rate usefulness and give open-ended feedback. The two research approaches converged in their insights, adding confidence to our field test findings.
Creating the business case
During this project we collected a lot of data and insights - quantitative and qualitative - and the analysis period was substantial. We drew out answers to key questions, such as: Did the concept affect a change in sentiment towards the brand? Was there an impact on physical and mental wellbeing? What features hold most value? What is that value, is it cost savings and/or potential profit? And ultimately, should the concept be taken forward?
Conclusions
The aim of this project was to establish if, in a 12-14 week project, we could gain deep enough insights to allow us to establish the business value of the HealthHub concept to allow us to decide whether to take the concept forward or not.
Our findings provided strong evidence that a HealthHub like connected tech eco-system has the potential to valuably support health insurance customers through the delivery of certain specific services - and in so doing positively change the relationship between customer and health insurer.
As well as identifying the value of potential features, our process helped us identify key criteria for success that will be invaluable in iterating and evolving the proposition.  
In this study, the Alpha-Beta innovation approach has again provided us with an an effective structured, minimally risky approach to designing and evaluating innovation solutions for our customers.