Skip to main content
What's coming in 2019? 5 ways organisations can become more customer centric
2018 was a remarkable year for cxpartners. Commercially great, but for us that's only a measure of the impact we're having on people lives. That's the thing we really care about, to help organisations become more customer-centric, so that they build products and services that fit into people's lives thereby strengthening the relationship between organisations and their customers.
I'd love to be able to write in full about each piece of work, but I'll leave that for the team and for future case studies. Instead, I'll try and give an overview of the diversity:
Samaritans - developing an alternate channel for people in crisis and improving their service around onboarding new volunteers
Porsche - training their leadership in design thinking so that they develop better, more customer-centric, solutions
Google - a state of the nation user experience mobile benchmarking report for their biggest customers in EMEA
Cigna - exploring how connected smart technologies can bring health insurance and health care closer together to strengthen the relationship between our customers and their clients.
RAC - applying our Evidence-Based Compliance processes to deliver product commerciality and compliance in response to new regulatory requirements
Marriott - improving the experience of their front-line workers (they'll have 1,000,000 by 2020)
Leeds Building Society - delivering organisational change through the development of a customer-centric digital operating model
UK Space - developing a new regulated licensing platform to aid in the UK's ambition to have 10% of the commercial global space trade by 2030
CapPlus - using service design to improve the impact of a micro-finance organisation changing the lives of women in remote rural communities in Kazakhstan
Department for Transport - creating an improved service for the management of roadworks, with the aim of ultimately reducing congestion and pollution
Public Health England - improving the drugs information available to teenagers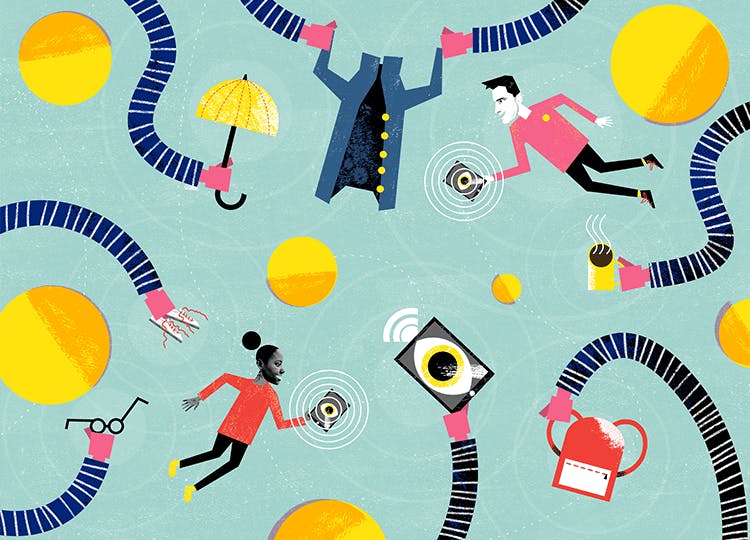 What you'll notice in this list is the complexity of the problems we are solving; mental health, organisational, compliance, cultural, behavioural. That's our strength as cxpartners. We've spent 15 years as a company (longer for me and Giles personally) refining our research practice, design thinking tools and collaboration methods.
But there's more I want us to do, there's more we need to do. Design is a gift for good. It breaks down barriers, brings people together, works across politics, across nations. It finds simple, elegant and practical solutions to the world's tricky problems.
So here are my ambitions and some of our work themes for 2019 and a view of what organisations need right now to make them more customer-centric:
1. Improved global experiences - It's stating the obvious but there are differences in people and culture around the world. User centred design brings people together and breaks down political and cultural barriers. With this insight, big organisations and government departments can understand and provide better services to their international audience.
2. Getting in line with legislation - We've spent the back end of 2018 developing a consulting product that demonstrates that organisations are compliant to the spirit of legislation. Take something like the FCA's Senior Managers Regime or Insurance Distribution Directive (IDD), you're told what will happen if you get something wrong, but you're not told what good looks like, the answer, of course, is demonstrating that the work you do is in the interests and of value to your customers.
3. Getting your organisation fit for change - A move to customer centricity needs the weight of an organisation behind it. That needs to start from the very top so that it can impact every part of the business from technical decisions, to product decisions, operations, marketing. New customer-centric operating models are beginning to flex their muscles. It's a very exciting time.
4. Focus on the employee experience - the work we're doing for Marriott at the moment isn't isolated, and I wish I could say more, but, spending the time to understand how people work and then helping them work better is a huge trend that's only going to grow in 2019.
5. Detaching the experience layer from the backend - too often technology is putting the handcuffs on customer centricity. Huge technical budgets are being signed off at a senior level in the promise of improved experiences, operational efficiency, and reduced risk. But the reality is that the needs of people (internal and external) haven't been deeply understood, a new service not properly defined, and the organisation ends up being locked into a solution that doesn't serve them or the customers' needs. Change couldn't come quick enough. One particularly enlightened client described a detached experience layer as being his insurance policy. He could focus on a fantastic customer experience talking to the back end solution through APIs (something we've long been championing) - if IT were to pull the back end he could ensure consistency of the front end… and more than that, feel comfortable to continually invest and improve it.
We're really looking forward to 2019. In the meantime Merry Christmas and a Happy New Year, and please reach out to talk to me in 2019. In particular, we're trialling a new "How customer centred are you?" workshop format. Let us know if it's something you'd be interested in us running with your senior team. Email: hello@cxpartners.co.uk