Skip to main content
Let's better the balance
Happy International Women's Day 2019!
As we celebrate women everywhere, I wanted to take a moment to honour some of the amazing women I have had the pleasure of working with over the last 15 years. From my first steps into the working world as a young people's support worker to my early years as a fledgling designer, I've encountered incredible and empowering women who have encouraged me to step out of my comfort zone and pushed me to do better.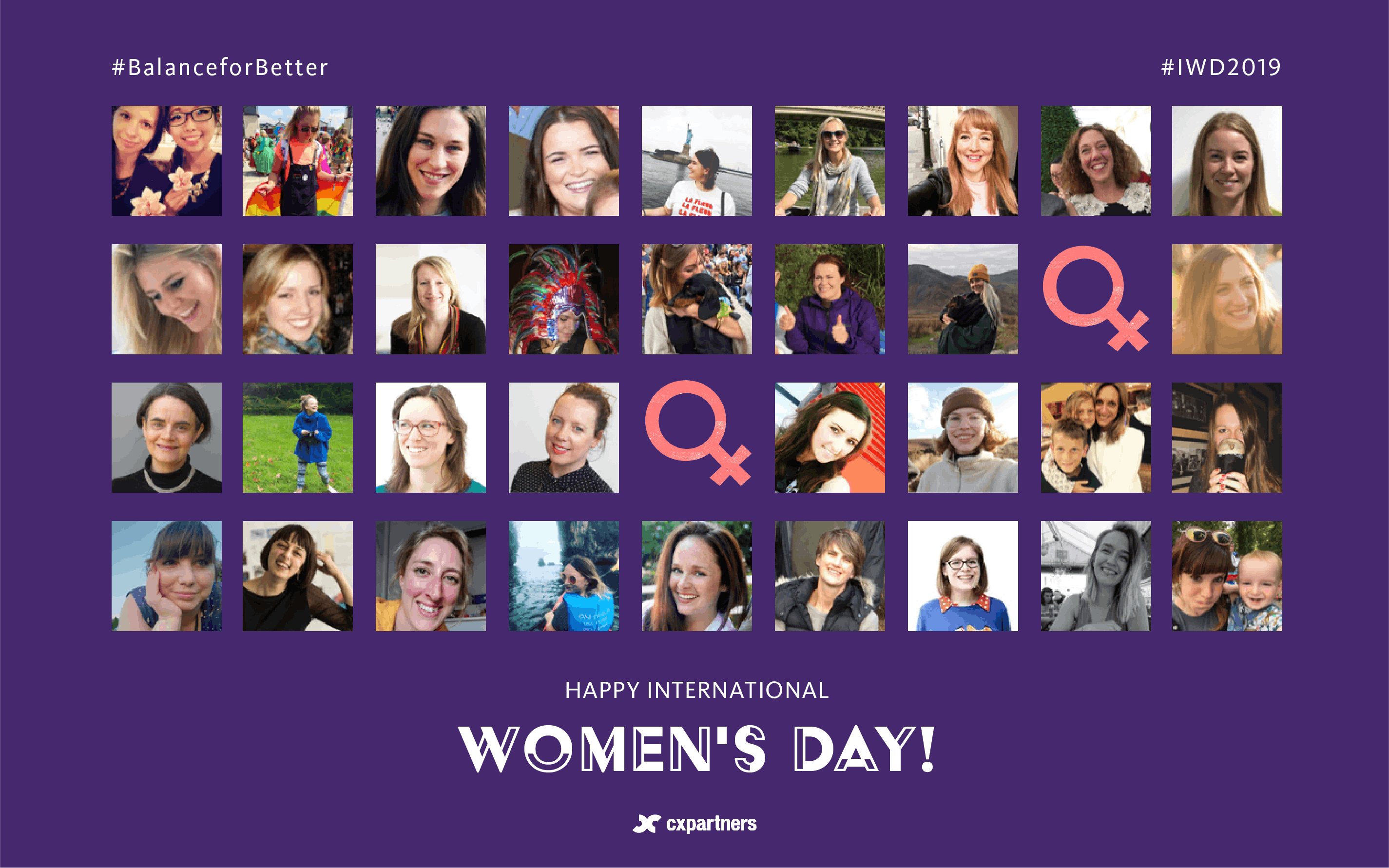 The theme for this year's International Women's Day is #BalanceforBetter and with that in mind, I'm asking the question 'How might we... balance for better in our workplaces?'
Here are three things that I believe are important to shape organisations into places that thrive and succeed:
Create diverse teams
Have role models at every level
Build a supportive environment
1) Create diverse teams
As a sibling of 2 brothers, I grew up feeling comfortable hanging out in male environments. I classed myself as a 'lad' and so working in male dominated teams didn't feel like a big thing. And whilst there's nothing wrong with this in itself, it can lead to you diminishing your own unique experience and qualities in order to fit in with the majority. In turn this leads to groupthink. Groupthink is the tendency for people within groups to avoid confrontation and conform. This decision to keep harmony within the group can lead to quite irrational decision making.

Research shows us that more homogenous teams lead to poorer outcomes. This is evidenced the world over in ineffective products and services biased towards the people who created them. Caroline Criado-Perez recently wrote about this in her article, The deadly truth about a world built for men – from stab vests to car crashes.
In contrast, common sense and research tell us more diverse teams lead to more successful outcomes. As demonstrated in New research: Diversity + inclusion = Better decision making at work, it pays to invest in creating teams from diverse backgrounds. This isn't only true of gender, but also social, economic and ethnicity. After all, how can we create successful products and services if our teams only represent a narrow range of experience and viewpoints?
2) Have role models at every level
In her article, Why women don't apply for jobs unless they're 100% qualified - Tara Sophia Mohr unpicks the widely shared statistic that women only apply for jobs if they fulfil 100% of criteria vs 60% for men.
What she found was that there is a belief in women that they have to follow the exact guidelines of a job description otherwise the interview process will be a waste of their time and they could be perceived as a failure.
That's why you should never underestimate the power of having women in leadership within your organisation.
The greater visibility of women in a range of roles not only leads to better balanced teams but also encourages more women into your teams.
Having women in positions of authority who celebrate work life balance and demonstrate that you don't need to make a choice between career and family elevates other women. People are able to imagine themselves doing roles they may not have considered doing before or that they didn't think were within their reach.

Role models don't always have to sit within the workplace. We can also better the balance by reaching out to our networks through mentoring schemes such as Kerning The Gap (KTG) and events like Girl Geek Dinners and Ladies that UX. Creating spaces where females feel they can learn and share without judgment is vital to opening up career options.

It's something we are passionate about at cxpartners with Sarah (Marketing Director) and Emma (Research Director) acting as mentors within the KTG community inspired to make change and elevate other women in the industry and their personal careers, through sharing experiences and advice. Our HR Assistant, Danielle and UX Consultant, Zoe are mentees. They're both passionate about being a part of a community inspiring change and #BalanceforBetter. I co-founded the Bristol chapter of Ladies that UX and have learnt so much from this network of awesome women.
3) Build a supportive environment
It's not enough to just get women into roles. We need to make sure that we nurture an environment where people feel supported and also empowered to call out behaviour which limit individuals and teams.

It is useful to have male allies for whom the promotion of women is important. A male ally is someone who supports gender equality and challenges sexist behaviour.

Finally it is also important to give recognition to quieter team members and publically recognise success and achievements. Push people to go for promotions where they may feel out of their comfort zones. Back female coworkers when they have a point to make in the room and call out behaviour that isn't cool.

I feel so privileged to work in a team who honours these three principles and understands the value of doing so. Here's a massive shout out to the women in the team at cxpartners. We wouldn't be us without you.
Amy Bracewell, Bairbre Doyle, Beth Curtis-Clarke, Beccy Tarling, Cassandra Gregan, Charlotte Tigwell, Danielle Sullivan, Fiz Yazdi, Gee James, Julie Sun, Natale Morch-Monsted, Rohini Denton, Rose Westcott, Sanita Lustika, Sophie Grencis, Tiffany-Jade Kelly, Zoe Popperwell, Aimee Smith, Anna Wilkie, Alice Chapman, Emily Maher, Emma Howell, Gemma Savagar, Hannah Whiteley, Jade Terry, Karina Baker, Laura Chilcott, Natalie Hearn, Rebecca Cavill, Sarah Newman, Sarah Roberts, Sophie Cooper, Tamlyn Driver and Victoria Hunter