Skip to main content
Five insurance trends for 2018
Five customer-centric trends point to forthcoming fundamental disruption in the insurance industry. Embodied in products and services, these trends will re-define the customer experience of what it is to choose, be accepted for and hold an insurance policy.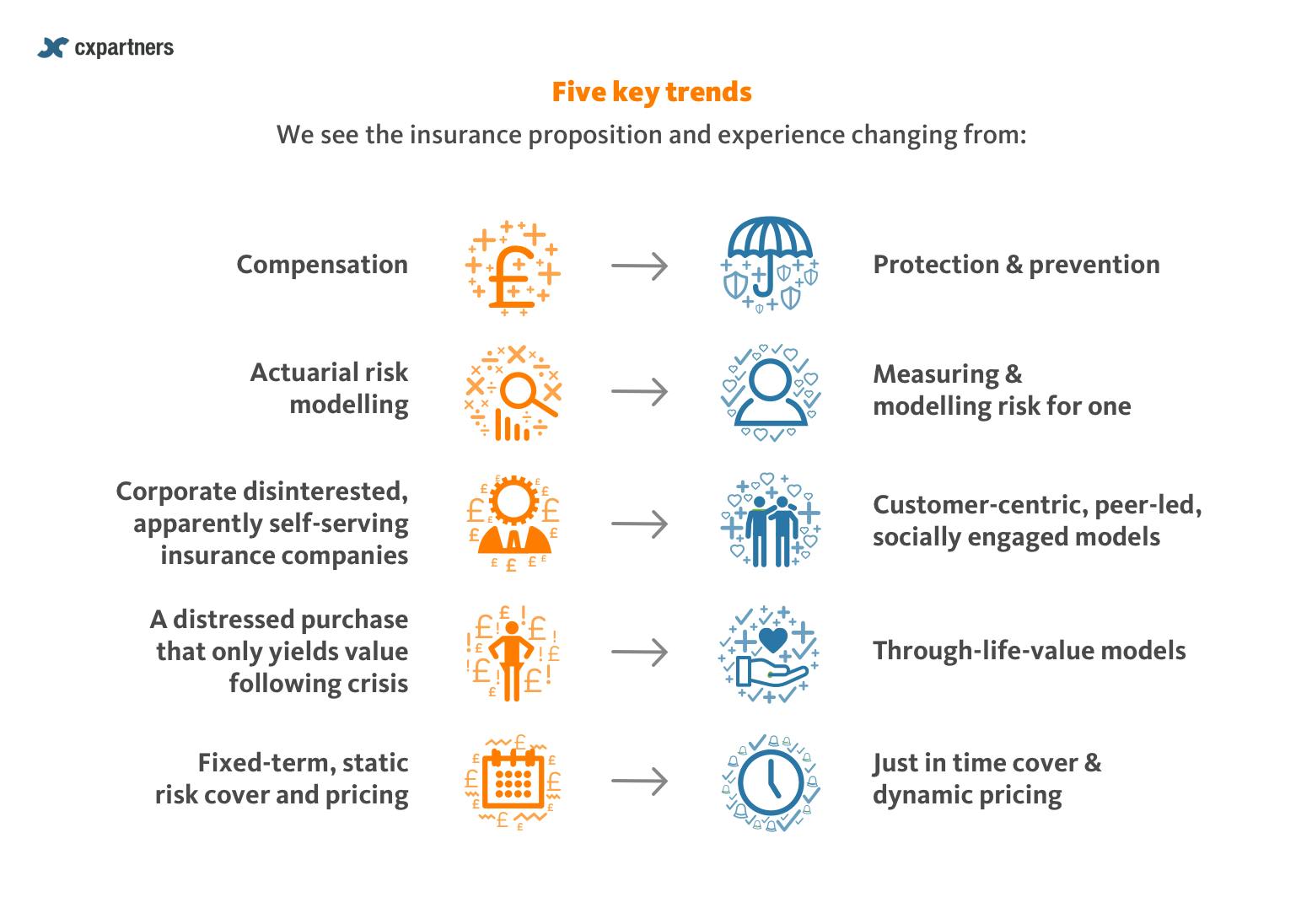 These changes present challenges to the industry, but opportunities to those who are nimble enough to adapt and embrace this change - possibly start-ups, but incumbents too - the common factors being access to investment to support customer base growth and scaling.
InsurTech startups characteristically aim to offer more transparent, efficient, cost-effective and engaging propositions than traditional insurers. They are raising the customer experience bar, using a mix of technology and data, new business models, design and low-cost customer service channels.
All reflect a fundamental repositioning in what it is to have insurance cover. And all present a real challenge to the industry to work out how to get these changes defined and packaged in a way that gives value to customers and makes money.
Using data to identify gaps/niches in the market
The next generation of price comparison websites such as Bought by Many and Clover Health are using data to identify gaps and niches in the insurance market. They serve those niches with focused products, and evolve their offering using insights they can gather from them.
The incumbents are investing and following start-up innovation
For those InsurTech entrants without heavyweight investors (like Peter Thiel of One in Germany) scaling the customer base may be a problem, and easier opportunities may lie in developing B2B propositions that provide products and services to help insurers and reinsurers improve their processes to better serve their customers.
Established companies are investing heavily in startups and are also launching their own InsurTech MVPs – to test more niche products or customer segments, and potentially disrupt themselves.
New data sources will transform risk modelling
Efficiency remains high on the agenda in underwriting, where B2B tech startups are using Big Data and Machine Learning (ML) to automate and improve expensive and resource-heavy processes.
Meanwhile alternative risk modelling approaches are being tried by companies such as Neos, Sonnet and Carrot and others, leveraging social web, online content, wearables, connected devices and other forms of next-generation data to provide alternatives to traditional credit scores.
The boundaries are blurring
The future may see the implementation of smart contracts/distributed ledger technology to authenticate the claims process. FinTechs are unsurprisingly entering the insurance industry, given the nature of their mobile-first offering and the data they have access to.
Some are well positioned to be front-of-mind for millennials, offering digital gadgets and travel insurance that are mostly provided for this population by banking products. This might mean further disruption and consolidation of financial services within insurance.
In fact, land-grabs can be expected through InsurTech and FinTech. Most of these are data hungry and with data comes opportunity. We expect FinTechs to move towards insurance and InsurTech to move the other way. In spite of their laser-focus, few of these InsurTech and FinTech brands will plan to stay in one place.
Brokers and underwriters seem most at risk of disruption
Of the main players in the insurance industry, brokers are seemingly most at risk of disruption as InsurTechs can easily replicate their services and are solving historical industry problems faster than they can.
What may help keep them in the game is to focus on the soft 'sell' that their clients still value. In business insurance in particular, customers still value an empathetic, experienced an accountable ear.
Underwriters come a close second. Automated underwriting is the promise – and we believe that the first company who can define and fill the gap between their underwriters' risk template and their 'gut' with AI will gain advantage. All to play for!
See for yourself
We've created an InsurTech Matrix that compares the USPs, features and functionality of the most well known – let us know what we missed!