Skip to main content
How we redesigned the IA for Every Mind Matters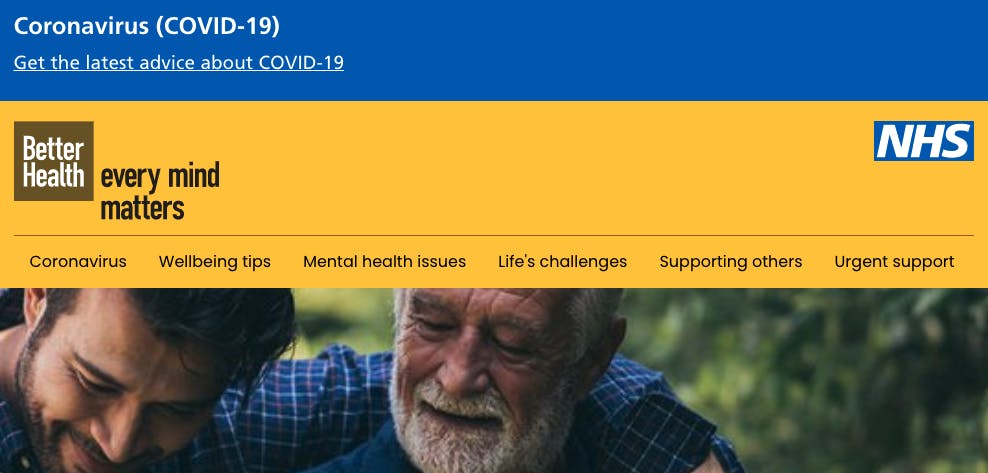 This week is Mental Health Awareness Week, and we've taken the opportunity to revisit one of our favourite projects from 2020. 
Launched as a campaign in October 2019 by Public Health England (PHE), the government body responsible for protecting and improving the nation's health, 'Every Mind Matters' aims to encourage people to take action to improve their mental health and wellbeing.
The website quickly became the UK government's flagship mental health website following a high-profile advertising campaign and increased demand for help and information during the pandemic, thanks to regular signposting of it by the prime minister in his daily COVID-19 briefings.
As the user needs and profile of the website evolved, PHE became aware of significant issues within the existing structure of the website. In particular, it was not originally designed to be scalable and the structure and presentation of information made it very difficult for people to find the resources they needed.
PHE asked cxpartners to redesign the information architecture to improve the findability of existing content and to provide a more scalable structure that will allow the site to grow to accommodate new content areas in the future.
The Journey
With a timeline of just four weeks to complete the project, we needed to research, identify and refine a new information architecture (IA) solution to support the goal of people finding the help and resources designed to encourage them to take action to improve their own mental health and wellbeing.
Our challenge was to create an information structure that encouraged self-help but made it easy for people to get immediate professional help should they need it.  
The use of the right language for navigation labels was critically important.
Our approach
Our key starting point was to ensure our recommendations were grounded in evidence and our methodology was designed to deliver robust recommendations that PHE could trust. 
We analysed existing reports and interviewed stakeholders to identify existing issues and new requirements so that our design solution would take into account what was already known.
Interviews with policy leads who were gathering evidence on which interventions would meet policy objectives gave us an understanding of the strategic requirements that our design needed to support.
We audited the existing site to understand the scale and quality of the current content so that we knew what we were dealing with. 
From here we created a prototype IA, documenting the assumptions it was based on so we could evaluate them properly within our user research.
Collaboration
Carried out through the 2020 lockdown, effective remote collaboration with a geographically dispersed team was vital. 
Miro, an online tool, allowed the whole project team to easily see the main findings from each activity and track our progress. It also allowed us to sense check our understanding and for the collaborators to ask questions as they arose.
Research and iteration
Once we had refined the prototype IA based on stakeholder feedback we tested it with people who were actively managing mental health issues, carers of people with mental health issues and people who had an interest in protecting their mental wellbeing.
We ran one-on-one remote sessions with people in parallel with running a large-scale unmoderated online assessment which involved over 90 people trying to complete information finding tasks using the prototype IA.
These sessions provided a huge amount of useful insights that helped us to understand more about people's understanding and expectations of the specific labels that we planned to use. 
Many of our initial assumptions and hypotheses were proved to be completely wrong and the user research helped us to see the world from the perspective of the people who would actually be using the service.
Originally we had just planned to do one round of research but we redesigned our approach on the fly to enable us to add another round of research, giving us another design iteration without adding cost or additional time to the project.
This second round of research helped to further refine the IA and also to explore some new ideas that had emerged from the first round of research. 
We were able to validate that the new IA was more effective than the first iteration - as people were able to rapidly navigate to the right places because they understood the labels that were used.
Our design solution
Our challenge for the IA redesign was to provide people with the knowledge and confidence to take action to help themselves. 
During our research, we identified key user tasks and questions and built the IA around them so that using the navigation would feel like the site was giving you answers to your most important questions.
For example;
"Why am I feeling like this?" became the 'Life's Challenges' section
"Help me with my specific issue" became the 'Mental Health Issues' section
"What can I do to feel better?" became the 'Wellbeing Tips' section
The idea was for every section to feed into one another to allow people to move between the content regardless of the nature of their visit.
We wanted to make it as easy as possible to find useful content without needing any formal diagnosis in acknowledgement of everyone's daily fluctuating mental health.
The final IA has been very well received by PHE and will be used to inform a similar project on the main NHS.UK website.
The updated site went live recently - https://www.nhs.uk/every-mind-matters/
Throughout the last 12 months, our sector teams have all worked on projects aimed at tackling subjects related to mental health including:
Helping financial services firms support people in vulnerable situations
The impact of COVID-19 and lockdown on drug use in young people and adults
Discovery research to evaluate a physical health-check service for people with severe mental illness
If you want to discuss how cxpartners can help you design inclusive services, please contact: amanda.payne@cxpartners.co.uk