Skip to main content
The value of making compliance simple and usable
Make regulatory material feel accessible, relevant and even (whisper it) engaging to your designers, and you can expect aligned teams and commercial rewards.
–––
Every financial services firm wants to make commercially successful products. Those seeking longevity also know that an optimised conversion rate isn't enough to deliver lasting commercial success – they need to help their customers to also prosper over the longer term.
The regulator wants this too. It calls it 'good customer outcomes'. 
With business and regulatory objectives in alignment, there should be no problem. But interpreting regulatory material isn't easy.
The FCA regulates 60,000 differing firms so it can't tell any one of them exactly what to do. It says it's down to each one to respond appropriately. The final word in that sentence does all the heavy lifting. And this is when things can start to go awry. 
While trying to figure out what's 'appropriate' for their business, we've seen compliance teams adopt a defensive stance that unnecessarily constrains how products and services are designed – stifling innovation and therefore commercial success. Sometimes, perversely, it leads to firms making things worse for customers too.
It's a frustration that many will recognise and one that nobody is happy with, least of all compliance teams who sometimes get an unfairly bad rep. But it's a problem that we can fix with user-centred design, because it helps us make things simple and usable. The techniques we use to simplify things for customers can be applied to the complicated regulatory material that people designing products and services need to understand. 
That matters because – being closest to customers – they are best placed to understand how to deliver good outcomes. 
Make compliance feel accessible, relevant and even (whisper it) engaging to your design teams, and you can expect aligned teams and commercial rewards.
An example
Here's a simple example created by the experience designers in our Financial Services team. They've taken the FCA's six Treating Customers Fairly (TCF) principles and distilled them into something that's more practically useful for a designer faced with a specific challenge.
The original TCF principles describe service levels that financial services firms are expected to provide.
Consumers can be confident they are dealing with firms where the fair treatment of customers is central to the corporate culture.
Products and services marketed and sold in the retail market are designed to meet the needs of identified consumer groups and are targeted accordingly.
Consumers are provided with clear information and are kept appropriately informed before, during and after the point of sale.
Where consumers receive advice, the advice is suitable and takes account of their circumstances.
Consumers are provided with products that perform as firms have led them to expect, and the associated service is of an acceptable standard and as they have been led to expect.
Consumers do not face unreasonable post-sale barriers imposed by firms to change products, switch providers, submit a claim or make a complaint.
–––
Aside: The TCF principles, first published in 2015, seem likely to be updated in 2022 and bolstered with rules as part of the FCA's proposed new Consumer Duty. Read why we think the intervention may be an opportunity disguised as obligation.
–––
Using TCF to think creatively about the problem of pricing in insurance
At the moment the FCA is especially keen to ensure that insurers provide customers with 'fair value'. And, specifically, they want to tackle the endemic problem of 'price walking' in general insurance: the significant gap between the price that new customers pay and the one offered to renew 12 months later. It believes that the status quo unfairly disadvantages customers who are ill-equipped to play the annual switching game. 
But how do you define fair value? How do you determine whether customers are receiving it? And if they're not, how can you deliver it? It's a head-scratcher. 
Rather than feeling like an extra problem (an obligation, or a box to tick), could the TCF principles be used to stimulate a designer's natural problem-solving instincts and lead you to a successful answer?
Simple and usable design principles
We identified the three TCF outcomes that felt most relevant to pricing policy and distilled their regulatory verbiage into simpler, more memorable design principles that are:
Easier to remember, making them more likely to be referred to during the design process
More stimulating
More helpful in terms of making design decisions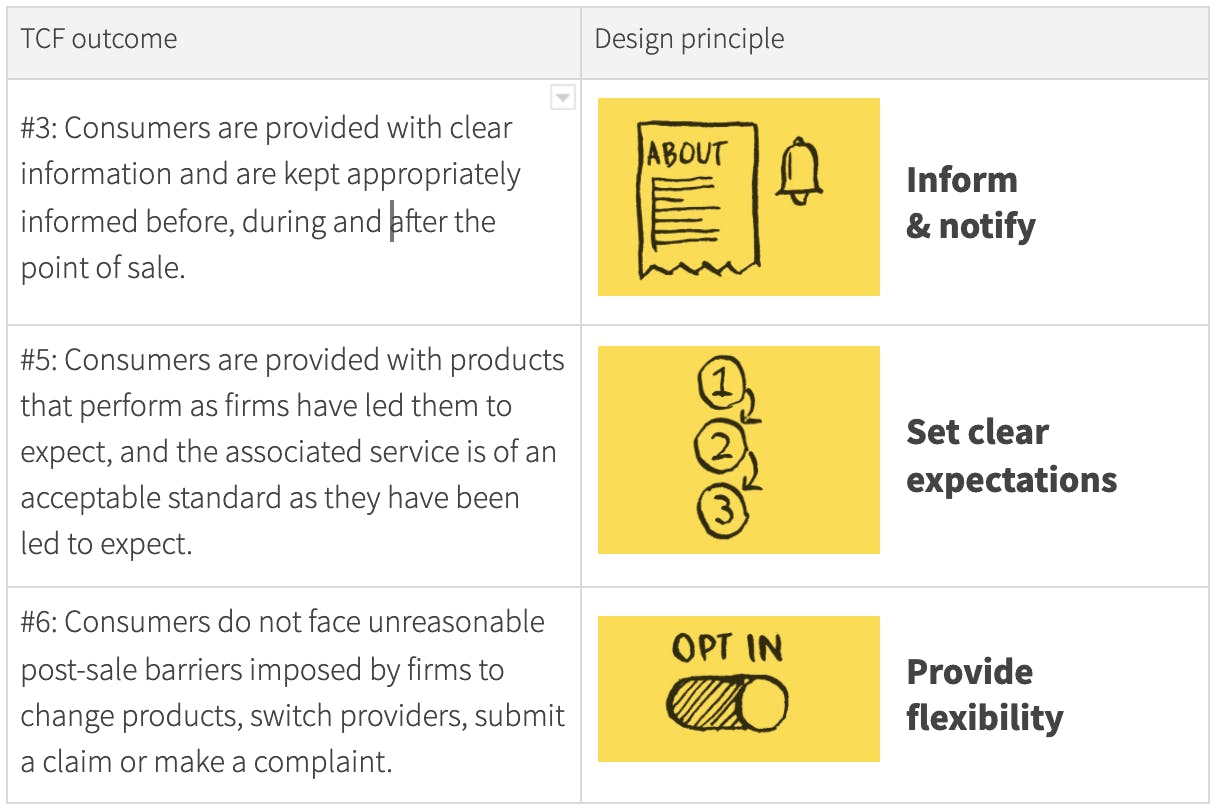 It's that simple. That's the first step to making good customer outcomes a team sport.
From there, the creative process can begin, with important values front and centre. How might we inform and notify? How might we set clear expectations? How might we provide flexibility?
Rather than rushing to unnecessarily defensive solutions based on a legal perspective alone, you can explore a wider set of opportunities as a team, with confidence and a shared sense of purpose – testing with users to learn what will really drive the outcomes you need to see.
(This blog was inspired by the work done by Tim Hawley and his colleagues at Capital One – check out their Vulnerability Inclusion Handbook.)