Skip to main content
How might financial services support and empower women in vulnerable situations?
How the financial services industry could provide better services to support survivors of abuse, and my thoughts on the role of financial services in avoiding facilitating abuse.
I was part of a team reimagining financial services for women at The Virtual Women's Economic Empowerment TechSprint 2021. 
It brought together women with different perspectives and diverse experience including commercial leadership, technology and experience design to explore ways to increase women's financial inclusion, resilience and access.
The initiative couldn't be more timely, long-standing inequalities have been amplified by the pandemic, which has disproportionately affected women.  The Women's Budget Group, an independent network of academic researchers, policy experts and campaigners outlined ways that women in the employment market in the UK have been impacted:
Women are the majority of employees in industries with some of the highest Covid-19 job losses, including retail, accommodation and food services.
Overall, more women than men have been furloughed across the UK, and young women have been particularly impacted. Estimates for the end of January 2021 see a significant rise in furloughing as a result of the third national lockdown, reaching 2.32 million for women, and 2.18 million for men.
46% of mothers who have been made redundant during the pandemic cite lack of adequate childcare as the cause. 70% of women with caring responsibilities who requested furlough following school closures in 2021 had their request denied. This has led to almost half of working mothers (48%) being worried about negative treatment from an employer because of childcare responsibilities.
It was refreshing to work in an all-female team on solutions that could have life-changing consequences. The enthusiasm that everyone had to address the problems set for us was palpable and the demos at the end highlighted the passion and creativity that made the TechSprint so exciting.
Our focus: supporting survivors of domestic abuse
Our team started by considering people in several vulnerable situations, including women leaving domestic abuse, migrants, victims of slavery and women leaving a cohabiting relationship (where women sadly often have disproportionately less property and resources at their disposal.)
We mapped out the different experiences for each group based on research done by EY Seren, before deciding to home in on domestic and financial abuse.
Our objective was to create a financial services product that increased trust between the user and the bank, by utilising alternative methods of data collection  so we developed an app that was an emergency fund, disguised as a period tracker. 
To increase trust we allowed for incremental data collection and for a user to take out an account using non-traditional methods of identity. We also investigated using chatbots to assist women in increasing their financial confidence and prevent further financial abuse.
Reflections
It was a thought-provoking sprint. Here are a few themes that I began to think about:
Financial institutions have to trust us, but what if we don't trust them?
In financial services, trust and inclusion are intrinsically linked. If you feel that an institution doesn't serve you or your needs, you are very unlikely to trust it. From my work in savings I've seen how young people feel excluded from financial services. They leave school or home with little financial education, and feel that banks are often complex, stale institutions that serve older people. They are unlikely to approach them for support or advice because they feel that they don't even know enough to start a conversation, and that they will not be taken seriously. If a bank were able to talk about the financial issues facing young people, and speak in a way that would engage them, trust could be built up. (My colleagues have written more on how lack of trust reduces the ability of financial institutions to engage with customers in vulnerable situations.)
Survivors of domestic abuse are likely to have low trust levels. They've been let down by the person they were supposed to trust most, and they may have trusted people, or professionals, who then sided with their abuser. They've had their financial power and control forcibly removed from them, so, unsurprisingly, they wouldn't want that control to then be moved to a financial institution.
 Financial abuse often persists long after the survivor has left their abuser. This can be facilitated by products that intertwine finances (such as joint accounts). 
Survivors may also encounter barriers to accessing financial services; 61% of survivors are in debt because of financial abuse and 37% have a bad credit rating as a result. Almost half  lose confidence in budgeting.
So how do banks include survivors in that situation— where trust has been eroded and they may still be in a vulnerable situation. 
Ideally, to solve this problem we would start by listening to real users. However, within the hackathon we had to rely on aggregate research, from charities (Women's Aid) or pre-prepared materials (from EY Seren).
We used this research to approximate the user's thoughts and feelings at each stage of the user journey. 
The main pain point we focussed on was identity, where a user might not have common identity documents (passport, driver's licence), or where she might be fearful of giving up her anonymity for fear of exposure to her abuser.
The point where you onboard a user is vital to gain trust, so we didn't want a user to give any details at that point. We would allow her into the app, offer her support and advice and lead her towards opening an account. There would be reassurance that the bank would never contact her (unless she had asked it to), and that she wouldn't have to provide traditional identity documents if hers were unavailable.
So we looked at non-traditional forms of identity (we didn't want to expose the platform to abuse) to build up a confidence score—i.e. we are 80% sure that this person is who they say they are. Our solution was that the bank would contact institutions that the user had nominated and the more that came back acknowledging that they had used them, the greater the confidence in their identity. These institutions could include their GP, the police, educational institutions (UCAS), estate agents, councils, or even loyalty schemes such as Nectar or Clubcard.
 Source: Unequal, trapped & controlled: Exploratory research by Women's Aid for the TUC By Marilyn Howard and Amy Skipp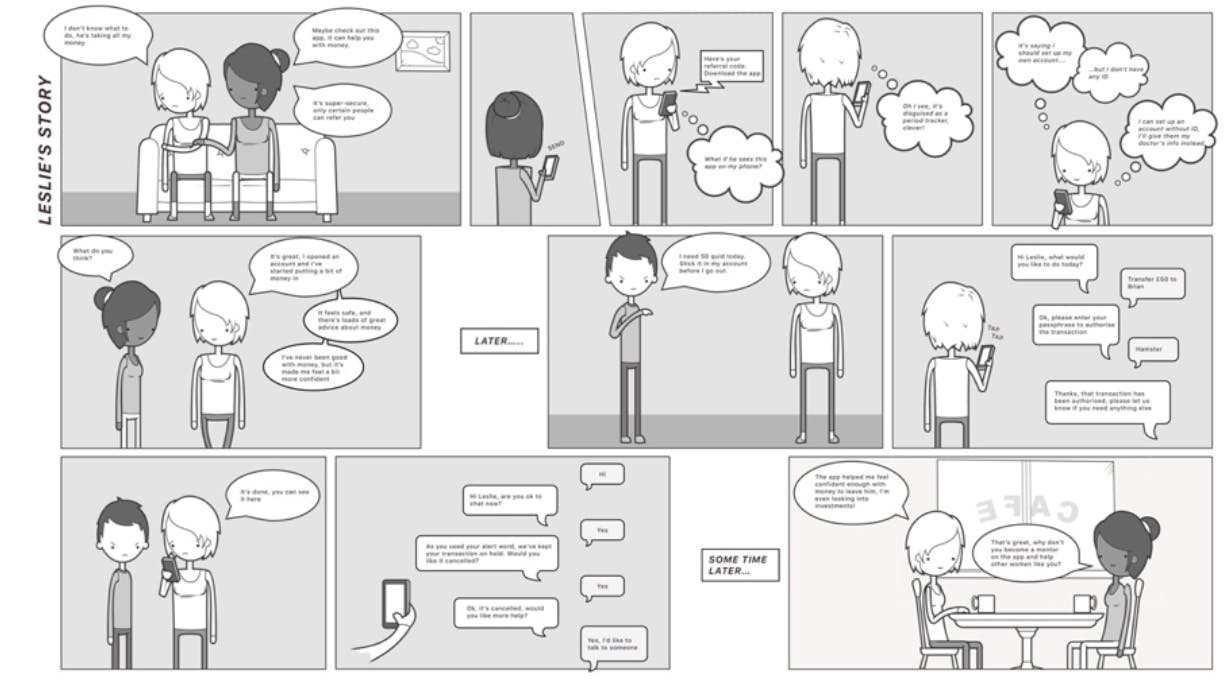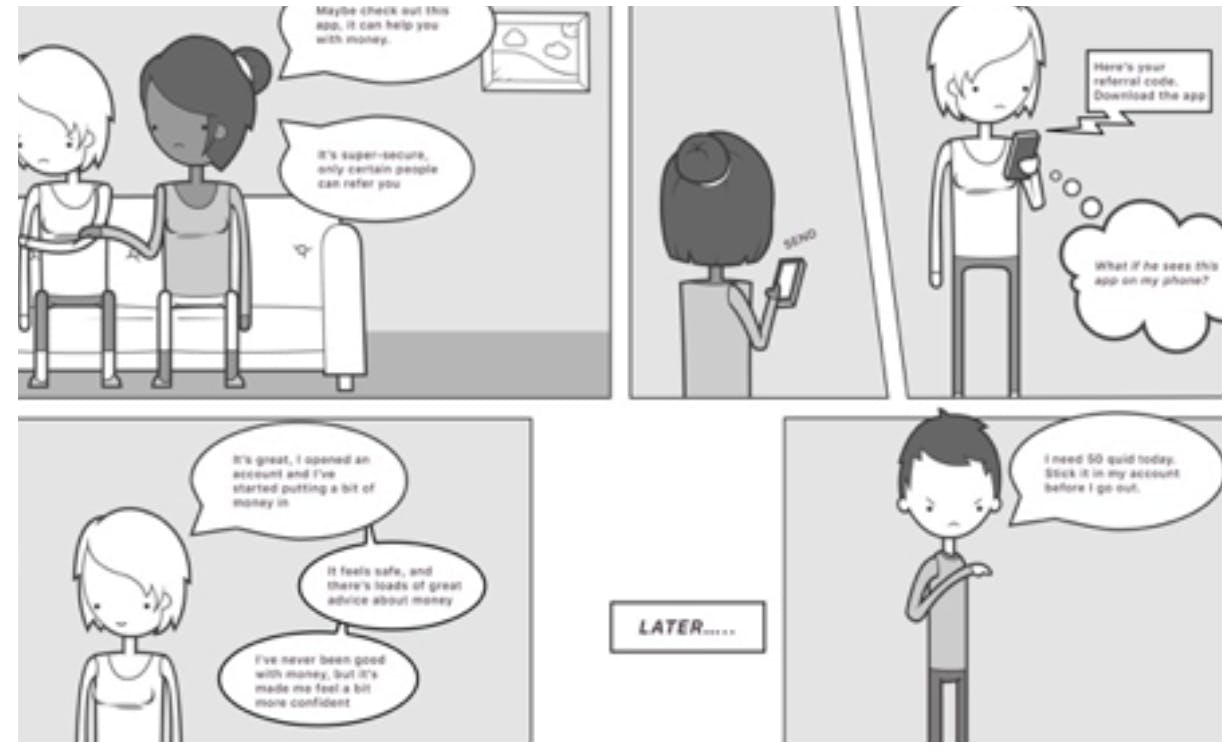 These ideas are just scratching the surface of what inclusion could look like and how we could build up trust within groups that are unbanked or excluded.
How can we reduce the risk of saviour complex?
Throughout the sprint, there were moments when I felt uncomfortable about speaking on behalf of a user who wasn't in the room.
We all had the best intentions, wanting to help women in those situations, but it often felt like we were making assumptions and generalisations that could have been harmful. It's easy to look at a singular vulnerable situation and then leap to conclusions about related vulnerabilities. For example: assuming that women on low income are also financially or digitally incompetent, or that a woman in a domestic abuse situation is also poorly educated. Even as women discussing the needs of other women, we often stereotyped women as financially incompetent and lacking in confidence.
In an ideal world, we would not only have access to users but have them integrated into the design team. If your company is continuously designing for specific user groups, then why not hire those people within your team? If they're in the room when teams are making decisions about products they could have a massive impact on product quality.
This leads me to my next thought….
What if your company culture reflected the users you're designing for?
The question of trust and inclusivity could extend to the teams that are actually designing these products.
While I was collaborating in the hackathon team I wondered how easy it would have been for someone who's a carer of a relative to work with us? What about someone recovering from trauma? It's not just about having a diversity policy, it's about how teams create an environment that empowers people to work in the way they need to.
Financial services are still regarded as a 'pale, stale and male' industry lacking in diversity providing limited opportunities for people who don't want to work in a rigid way. 
Goldman Sachs recently made the news when a group of junior bankers published a memo claiming that they had to work in 'inhuman' conditions, including 100-hour weeks and enduring 'abuse' from their superiors. This is an extreme example but exposes the belief that people only bring value through the number of hours they work, rather than through the experiences and knowledge they have.
Understanding how to accommodate different lives and working styles is the key to unlocking the value that diversity brings.
To really squash the 'white middle-class saviour' complex, we need to radically rethink what we think a 'good' working environment should look like. It might not be perfect for us, but we're not who we're designing for.
Final thoughts
Our focus was on how the financial services industry could provide better services to support survivors of abuse, but by listening to all the ideas it occurred to me that we were missing the other side of the conversation; prevention and the role of financial services in avoiding facilitating abuse.
If any of these topics have sparked something in you, get in touch! It would be great to hear how you've increased trust, how you've tried to tackle the white middle-class saviour complex, how you've changed the culture in your company to be more inclusive, and whether you've looked at accountability in financial abuse.