Skip to main content
How health tech is revolutionising the insurance industry
Through our work helping a global health insurer to innovate their offering we've been looking at health technology and how this taps into the latest trends in insurance.
With much talk of over stretched healthcare systems, that come from a history of focusing on treatment rather than prevention, technology has potentially a big role to play in getting people engaged in their health and wellbeing, focusing on active engagement in keeping well.
The aim is to proactively keep them well rather than react when they become ill.
Health tech is a rapidly growing market, as wearables and sensors become more advanced, more affordable and more prevalent in our everyday lives. The global market for IoT healthcare tech will be worth more than $14,6 billion by 2022, increasing from $5.8 billion in 2014 (Zion Market Research, 2018).
What does health tech look like?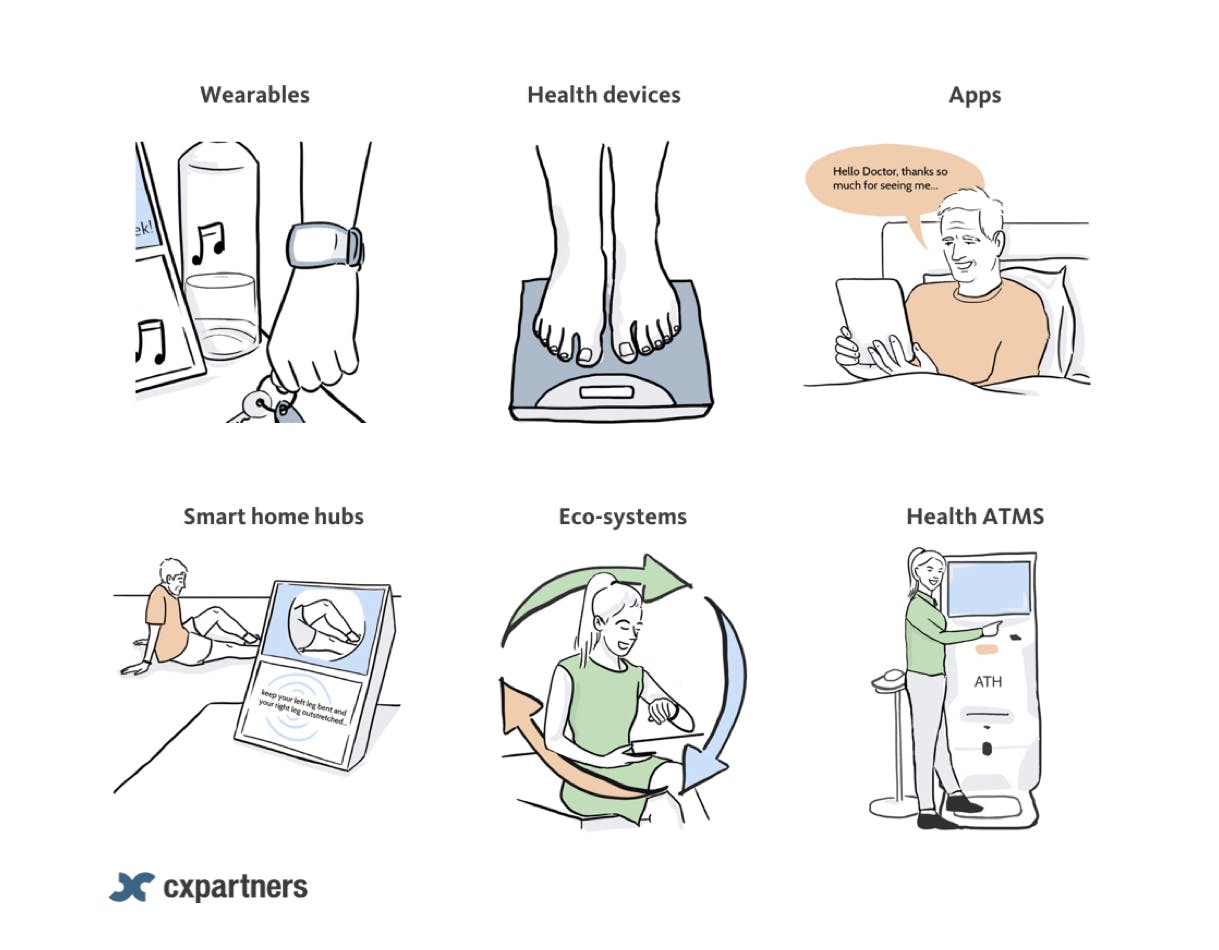 Wearables
Currently the market is dominated by wearables. The latest Fitbits, for example, now take multiple biometric measurements (steps, activity type, sleep, heart rate), give personalised insights, workouts and coaching on screen and cover broader health functions such as women's health and guided breathing exercises.
Health devices
Specialised devices that read biometric data in real-time, such as connected scales, blood pressure cuffs, blood-prick or saliva samples. The Bowhead Health test reader and smart dispenser, for example, takes a blood-prick test or saliva sample, sends data to a clinic who can instantly detect any key deficiencies and dispenses a personalised vitamin-based pill.
Apps
Many health apps are available for tablets and smartphones. Babylon health, for example, lets users query health concerns with their AI assistant or talk to the doctor from the comfort of their own home or office at a convenient time. Many condition management apps are in trial to help people understand their condition, monitor any changes in their health and seek appropriate care.
Smart home hubs
Smart home hubs, like the Google Home and Amazon Echo, build on the features and functionality of apps whilst creating an ambient presence in your home. The hands-free, voice operated interface makes it great for Q&A tasks, direct communication channels with customers and those with visual displays are ideal for video calling the doctor or playing workout videos.
Connected Ecosystems
The ambition is that this technology combines to work together. The wearables and the scales collate data, which is interpreted by an app and then provides alerts and guidance through the most appropriate channel - home hub, app or wearable depending on the message and your location.
Going beyond the home, Apple are planning to launch 'technology enabled' healthcare service for their employees that includes health centres, wellness schemes and wearable technology - creating a "unique concierge-like healthcare experience" that also reduces one of their biggest staffing costs.
Health ATMs
Stand-alone machines in public places provide a go-to place for an instant health assessment, useful for those who don't otherwise have access to the other health technologies. Max-Bupa have been trialling these in India.
How can this technology really support people to be healthy?
Taking a step back from the technology itself, what is really interesting are the underlying user needs that if supported would make a real difference to people's sense of wellbeing. A related question concerns the functionality that will help customers be more aware of their health needs and motivate difficult, but critical, behaviour change.
We've been working with a global health insurer using our user centred design process to explore how health tech can help their customers in 5 key areas:
1. Health & wellbeing - encouraging healthy behaviour through goal setting, tracking activity and motivating behaviour change.
Wearable technology is perfectly placed to help people get tangible insights into their health, whether its counting steps and active minutes, tracking heart rates, those precious minutes asleep or even collecting blood pressure, weight, and sugar levels.
Vitality offers its members a reduced upfront cost of a wearable purchase (e.g Apple Watch), with an opportunity to pay nothing more if you 'stay active with vitality'. This wearable is used to track activity and earn 'vitality points' to fund the outstanding balance of the apple watch or vouchers towards health related products and services.
Critically though, the effectiveness of all this data collection depends upon a sophisticated playback. Visualised insights and pretty graphs may draw users in but what will really have long lasting impact? We found that to be effective, feedback must be given as tailored, personalised advice delivered at the right time, in the right amount with the right motivational tone of voice.
2. Local & big data - drawing on data trends to provide localised wellness and safety information
Another aspect to health and wellbeing is being aware of environmental factors, for example pollution, solar strength, epidemiology, local safety alerts and information. These could be particularly critical to those globally mobile individuals and families living in densely populated areas and the risks that brings, heavy pollution, long commutes, terrorism threats and environmental risks, so advice on how to avoid or limit exposure can make a big difference.
Social prescribing uses a data model and algorithms to help intelligently match people with local, untapped, publicly available health and wellbeing services (such as learning groups, activity sessions, exercises) without requiring GP input or specialist medical therapy. Through this the aim is to help people connect with others, be active and create that sense of giving something back, ultimately reducing demands on GP services.
3. Diagnosis - making predictions from the data and supporting effective early interventions
The next step is to use collected data to make predictions, alerting users when signs of a problem emerge and to seek help earlier - sharing that data with health professionals so they get deeper insights.
Apple have been exploring how to detect conditions such as diabetes, hypertension, sleep apnea, and atrial fibrillation through their smart watch and interpreting heart rate data.
CARE.UP is a wearable that prevents heart attack and stroke by helping you to analyze the correlation between your lifestyle and blood pressure fluctuations.
Tech can also help in other ways, through providing a channel for communications - so no more hassle arranging appointments or long waiting times in waiting rooms, helping to remove the barriers that deter people from going to the doctor. It's also about getting those all important reminders for checkups and health screenings.
4. Condition management - helping people to manage a chronic condition
Help people manage conditions (new and pre-existing) with advice, diet, exercises, lifestyle, bio-metric data collection (e.g. blood pressure) reminders about appointments, medications and care-journey information. Potentially you can also get Instant, 24/7 access to specialists and case workers - and collected data can be shared with the health practitioner.
Diabetes Digital Coach (DDC) and Technology Integrated Health Management (TIHM), are using wearables, intelligent appliances, discrete sensors and powerful analytics to understand and help address the challenges that these people, their families, loved ones and carers are facing. This will lead to an improved level of care and quality of life for those suffering from diabetes and dementia.
5. Policy management - easy, supportive self service that reduces the demand, and cost, of customer service teams
When relying on insurance to help with the cost of healthcare, the service also needs to help customers remove potential worries and hassle so they can focus on getting better. It's about being able to easily check what you're covered for, finding the right health care provider, making claims and contacting customer services if needed. From the provider's point of view it is about reducing customer service costs, by helping customers reach the information they need through self service, whilst still maintaining high standards of service.
Capital One, Vodaphone, O2 provide some of the better examples of using smart home hubs to support customer service - they offer easy ways to handle account queries, such as checking balances and latest bills. Uber and Dominos help you to place and track orders.
How can it help health insurers?
If we tie these features back to the five big insurance trends for 2018 that Gabriela Isas described as shown in the diagram below, we can see how helping people support their health and wellbeing plays into a number of these trends - and tech is a great way to do it.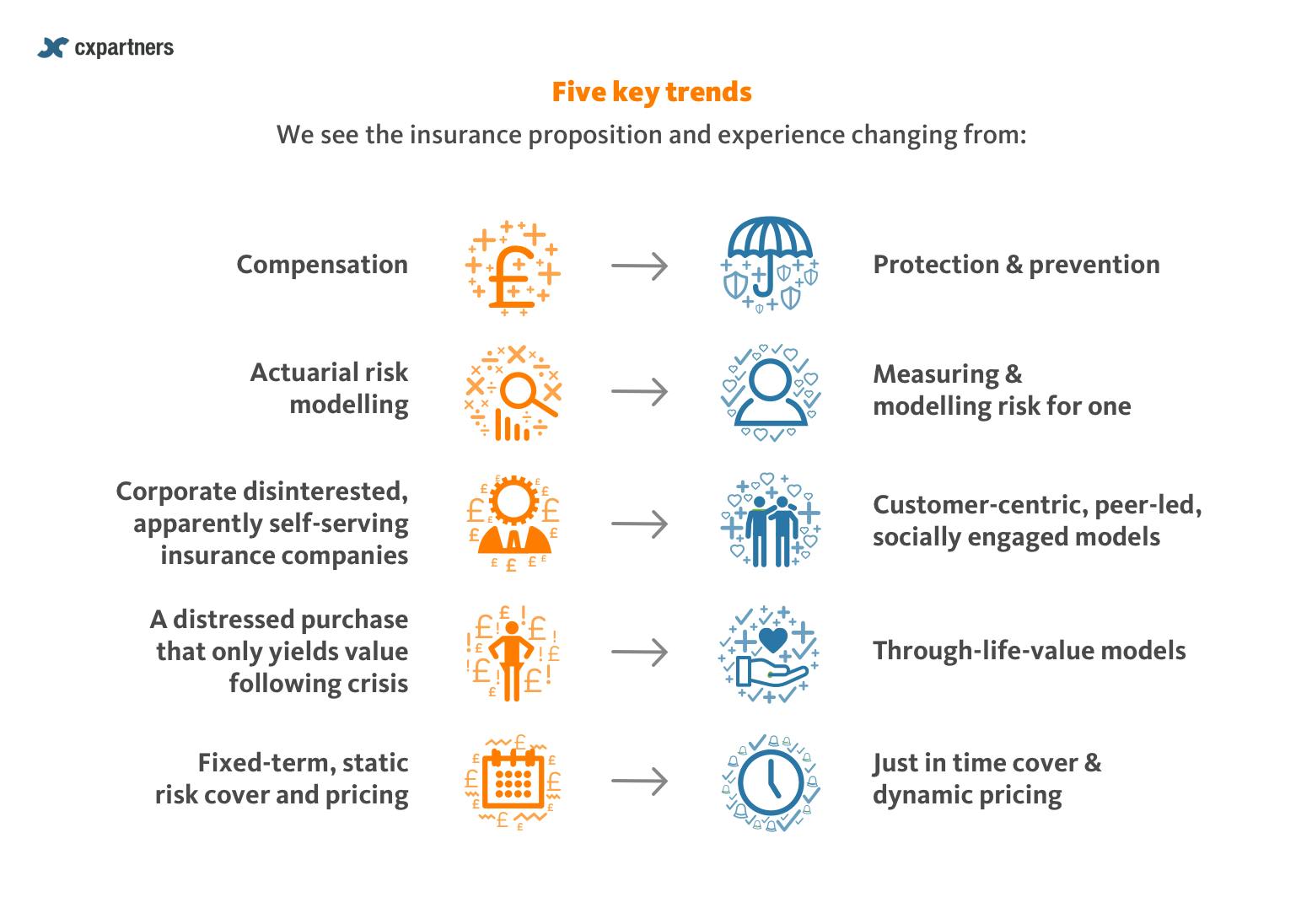 Focus on protection & prevention - helping people stay healthy and look after their health potentially reduces the need to seek medical care, and early interventions can reduce the medical bill too.
Measuring & modeling risk for one - with data insights into customers' lifestyles and wellbeing you get to know your customer better and can shape their cover to suit - potentially removing frustrating exclusions. However, people are becoming very aware that their data is valuable and are cautious about how companies are using it - health data is one of the most sensitive categories of data. Therefore, insurers need to be open and transparent about how data will be used and earn customers' trust.
Customer centric, socially engaged - engaging and supporting customers with health and wellbeing will help customers feel valued and at the centre of your business. By supporting customers with condition management, you can show customers you care about their health, rather than make it a problem that raises premiums and creates worry.
Through life value - by changing customer touchpoints, rather than contact only at points of distress it is about creating ongoing engagement with customers and playing an active role in their health. As health is a lifelong thing, supporting it also naturally creates through-life value.
Just in time cover and dynamic pricing - by being more attentive to a customer's individual health needs, listening to their requirements and knowing when they change, then their cover can adapt as appropriate.
What we know, what we have found
There are many consumer focused technologies and services that claim to deliver better Health and Wellbeing outcomes to their users. This growing market is raising public awareness, expectation and engagement with personal health and wellbeing technology.
We believe insurers should ride this wave of engagement. The opportunity is for them to encourage their customers to actively manage their own health and wellbeing, and to collaborate with them through the smart use of technology to achieve this.
Insurance companies who can support customers to stay healthy will demonstrate longer term value and in so doing will increase engagement with their customers.
To enable this, it is important to figure out which technology features will have the most impact, and we believe that the answer to this lies in really understanding people's needs.
Our work in the Health tech space has revealed that specific Human Centered Design methods are extremely effective in uncovering the unmet needs of our client's customers. When we balance these needs against our client's business ambitions and constraints, we have found that several emerging technology and product categories are capable of delivering very promising new engagement models that will enable insurers to dramatically recast their relationships with their clients to the advantage of both parties.