Skip to main content
Employee Spotlight: Julia Putnina, Senior UX Consultant
This months' #employeespotlight is on our bubbly Brightonian Julia Putnina, who joined the Home and Work pod as a Senior UX Consultant in December 2021 . In the blog she shares with us why she loves working at cxpartners and how she got into UX.
Tell us a little more about your background and how you got into the UX field?
UX is a career that was always aligned well with me and has been part of all my roles. However, I wouldn't say my path was traditional by any means, but it's helped me offer a lot to the UX field and allowed me to be more versatile. 
In school, I was exposed to Psychology and fell in love with it. It became one of my favourite subjects alongside Maths, English and Art. It sounds like a weird combination but those elements gave me the basis to my way of thinking.
I then went on to study Advertising and Brand Management at Manchester Metropolitan University. At that time I wasn't aware of the UX field, however my dissertation project was on "How customer service affects Brand Loyalty?". Unconsciously I was always fascinated by what people think, why they think that way and what elements in a shop or online makes them do things the way they do.
After Uni, I got into the digital world working for an email agency. During that work I put myself forward for any projects I could and somehow ended up doing lots of A/B Testing and user journey planning with email communications. From there I got into the website world and worked in a range of different in-house companies and agencies where my roles were always a hybrid of Conversion Rate Optimisation and UX. 
I went to lots of UX local meetups and joined as a volunteer for Ladies That UX in Manchester. Through meetups and reading books, I learned lots of different methodologies that I could take and try out within my jobs. I also had great colleagues who I could learn from and brainstorm ways of working in the UX field. 
How have you got to this job in particular?
All my previous roles have been slightly wider than just UX. I always looked at combining the User Needs with Business Needs to find the right solution and improvements for companies. I believe my experience in different aspects of UX combined with Optimisation and exposure to different industries has helped me to grow into a Senior position. 
Also, some of my 'soft skills' that help me in my job are: patience, curiosity, overthinking (still debating on this one), a team player, decisiveness and active listening.
What are your career ambitions/where would you want to progress to next?
This is something I'm still working on and I have had a great mentor via UXPA who has helped me develop a different way of thinking about my career progression and what I should focus on. But also cxpartners assigned me a fantastic Line Manager when I joined, based on my personality and skills, to help with my growth in different areas - especially regarding future career progression.
What projects are you working on at the moment that really excite you?
Currently I'm part of different Google Mobile Labs projects where myself and the team run the Mobile Lab days for a vast variety of clients. It's exciting to watch user research sessions of mobile websites or apps usage alongside the client. We gather lots of insights and challenges together and end the day with a lot of great ideas that clients can take further and put through A/B Tests. The day might be long but it's rewarding to see that remote workshops do work and they do help you to understand why customers do what they do on your website/app.
I'm also involved in other projects where different processes are used. This is what is so great about cxpartners, you always have an opportunity to develop, enhance your skills and use different methodologies.
Why do you like working at cxpartners?
I've worked both in-house and on the agency side before joining cxpartners. But from the moment you join cxpartners you know you will be valued here and your ideas will be listened to. Everyone in this company (and I mean everyone) is super smart, friendly and simply good, enthusiastic people with lots of empathy.
There are some great processes already in place for different projects but the agency is always developing and everyone has their input in making things even more successful.
I really enjoy that we are now meeting more often in person, not only weekly for work in the office, but also as a whole company for un-conferences or bootcamps (not as scary as they sound) for new joiners. In addition, having the offices in Bristol and London is great as you have the opportunity to work in either location
There is also lots of space to develop your UX/UI skills further with a vast selection of brands that cxpartners work with. Every time a project finishes there are always  superb results for the clients which feels very rewarding.
Read the blog: Bootcamp: breaking down the basics of User Centred Design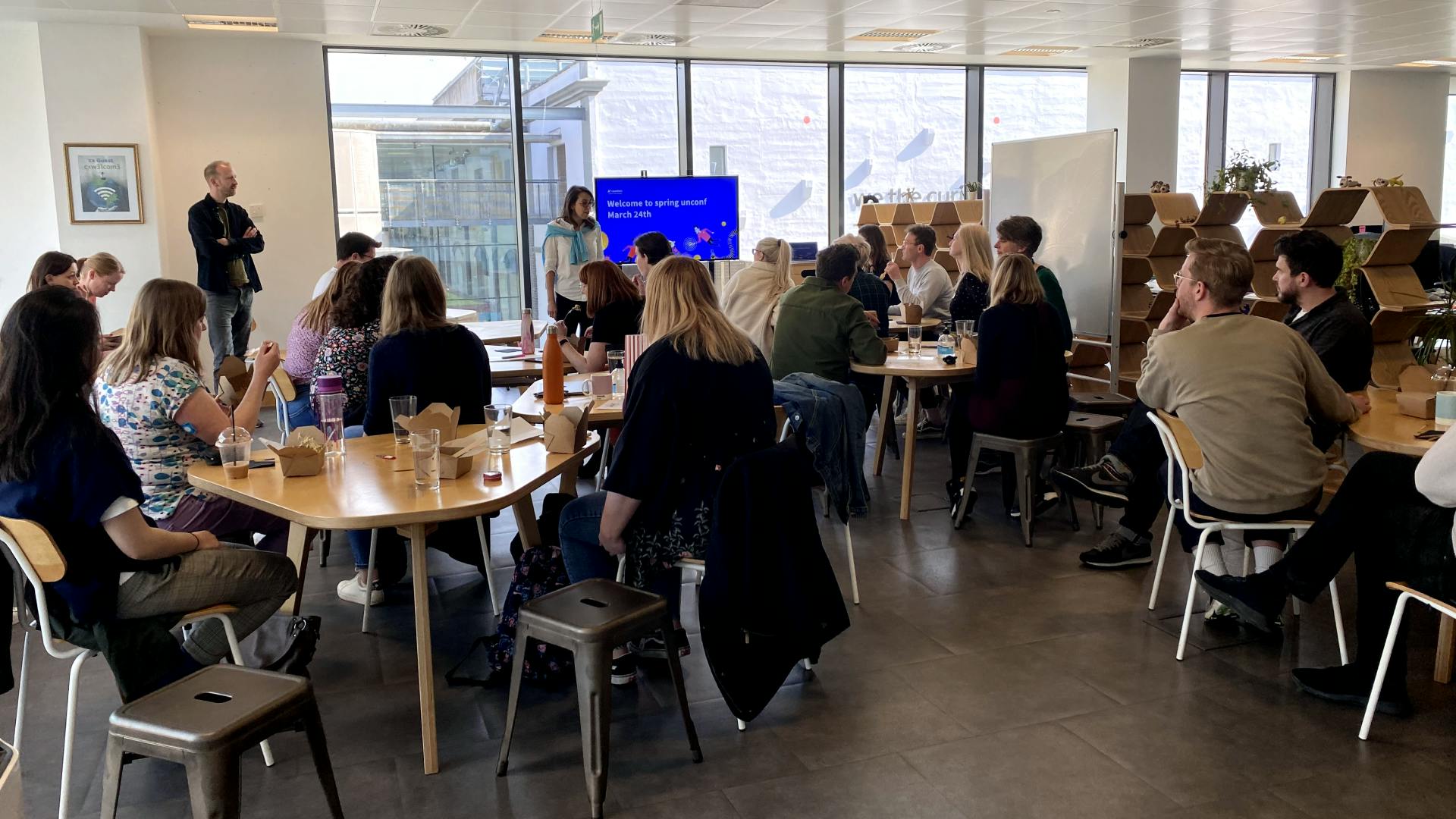 Why did you choose to work here?
To join the amazing people who already work at cxpartners. Everyone is always happy to share their 'nuggets' of knowledge anytime, it really makes you feel like you are part of a bigger family.
Also, I really appreciate an agency that focuses on people and the mix of different customers of our clients. We always suggest opening up the research with a wider audience from diversity to accessibility. When working on projects we do look into sustainability elements and of course the business needs, this kind of approach to projects is what drove me to join cxpartners. 
Read the blog: Inclusive design reveals 'hidden' problems
What do you like to do outside of work?
I moved to Brighton just before the pandemic so I'm still fairly new to this city as it is awakening after the turbulent times that we had. I love exploring all the independent cafes and shops in the lanes (yes, I'm the annoying person with a laptop in a coffee shop).
I love the sea and that is the reason why I moved to Brighton - so you can find me near the sea (when water is warm) on most days.
But I also enjoy learning further and being part of the UX community (I'm still exploring the Brighton UX community). I am part of IDF (Interaction Design Foundation) and am the local leader for Brighton - we've had some online meetups but are planning our in-person meetups now.
Other hobbies: Gym and Spinning/Boxing, city breaks, music gigs, comedy nights and theatre.
Leave us with an interesting fact about yourself…
My surname, if translated from Latvian to English, means Birdie. And I also used to be a Latvian Champion in swimming for a few years from 2003 until 2008. :) 
Do you have any advice for people getting into UX?
You don't have to be great at drawing - anyone can draw a circle, square. As long as you can visually show your ideas. It's not about how good you can draw but about your understanding of the problem/challenge and solving it.
UX is not just design and research. UX also is the content and hierarchy of it, it's the strategy and bigger picture, focusing on the whole user experience.
Apply for a job (and company) if it is for you - don't worry about not ticking every single box on the CV requirements. Companies look for more than just someone who can do everything on the Job Description.
Work on your active listening skills - very crucial in UX not just during user research but also in meetings and workshops.
Joining UX Communities offline or online helps a lot. If you are anxious to start conversations - what helped me is to be a volunteer at the event,people come and talk to you. :) 
I am happy to chat with anyone who would like to talk about UX or need some advice on anything. Just drop me a line on LinkedIn or I'll see you at any of the events.
LinkedIn: https://www.linkedin.com/in/jputnina/
Twitter: https://twitter.com/JulzBirdie 
Check out cxpartners career's page