Skip to main content
How the digital government team has grown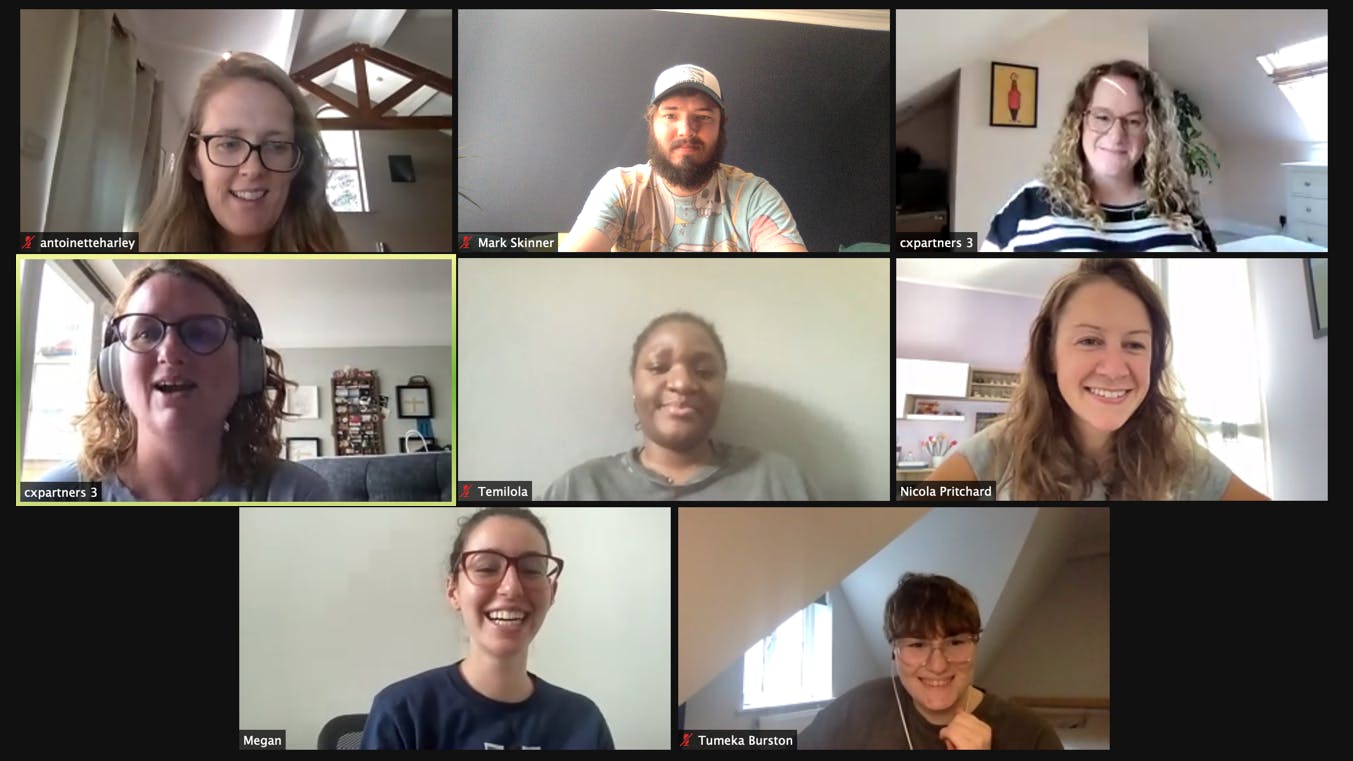 Our government pod has had a fantastic year, growing from strength to strength with both its clients and team. 
Despite the ongoing disruption and during one of the strangest periods for us as a business, it is fantastic that we can share such positive, and hopefully inspiring, news. We have continued to invest in new team members, new relationships and new initiatives. 
With a mandate to expand our offerings, we have won work this year with NHSx, Solihull Community Housing and the Maritime and Coastguard Agency. We're proud of the work we do which combines consultation and strategy with excellent design and research — always putting the human at the centre of everything we do. Our clients love how we provide end-to-end service design which solves whole problems for users.
Growing team
Our team has more than doubled in size, with four new hires plus growth from within cxpartners too. We have supported existing team members and brought new, talented people into our team which has increased our skills, capabilities and capacity.
Amanda Payne, our new Experience Strategy Director for Digital Government, joined us in October last year with 25 years of experience in digital strategy.
Mark Skinner (Principal Service Designer) and Ruth Limb (Programme Director) — two long-standing members of cxpartners — joined the digital government pod to support Amanda in delivering leadership to the team, excellence to our clients and supporting our new business strategy. They have both been instrumental in giving the pod direction, furthering our practice, overseeing the delivery of all work and keeping the team happy!
While Covid-19 decimated some businesses, for others their need for support was accelerated by the pandemic. This, coupled with improving our new business processes and responses, has allowed us to bring in new team members. 
We've hired four people from a range of backgrounds and disciplines to bring a diversity of thought and challenge to the work we do. 
Nick Squire, Senior Project Manager, has over 15 years of experience in project delivery both within agencies and the client-side. He has been managing project resources and budgets to maximise value for delivery and has been pivotal in making the delivery of projects seamless.
Temilola Adeleye, Project Manager, our newest hire, is working with Nick while completing a Masters in Project Management with the University of Bournemouth. She specialises in stakeholder engagement and has been learning from Ruth, Nick and our wider community of practice before she takes on her own project in September. She's also reviewing and improving our response to our live service clients.   
Megan Simmons, User Experience Consultant, previously worked as an architect and design strategist, with over 9 years of human-centred design experience. She has been using her design thinking principles, data-driven decision-making and ethnographic research methodologies on projects with UCAS, NHSX, and OpenWork.
Nicola Pritchard, Senior User Researcher, has a decade of experience in the commercial and non-profit sectors. Her systems mapping and social research skills have been demonstrated in supporting a series of alphas for NHSx.
The team all started remotely and we couldn't be happier with how seamlessly everyone has joined the company, never failing to show enthusiasm and adaptability.
We are thrilled to say that close to 80% of the Digital Government team is now female. Our commitment to diversity and inclusion has been stronger than ever — after all, if we're helping businesses become more human we need to demonstrate that ourselves too. But there is always more to be done.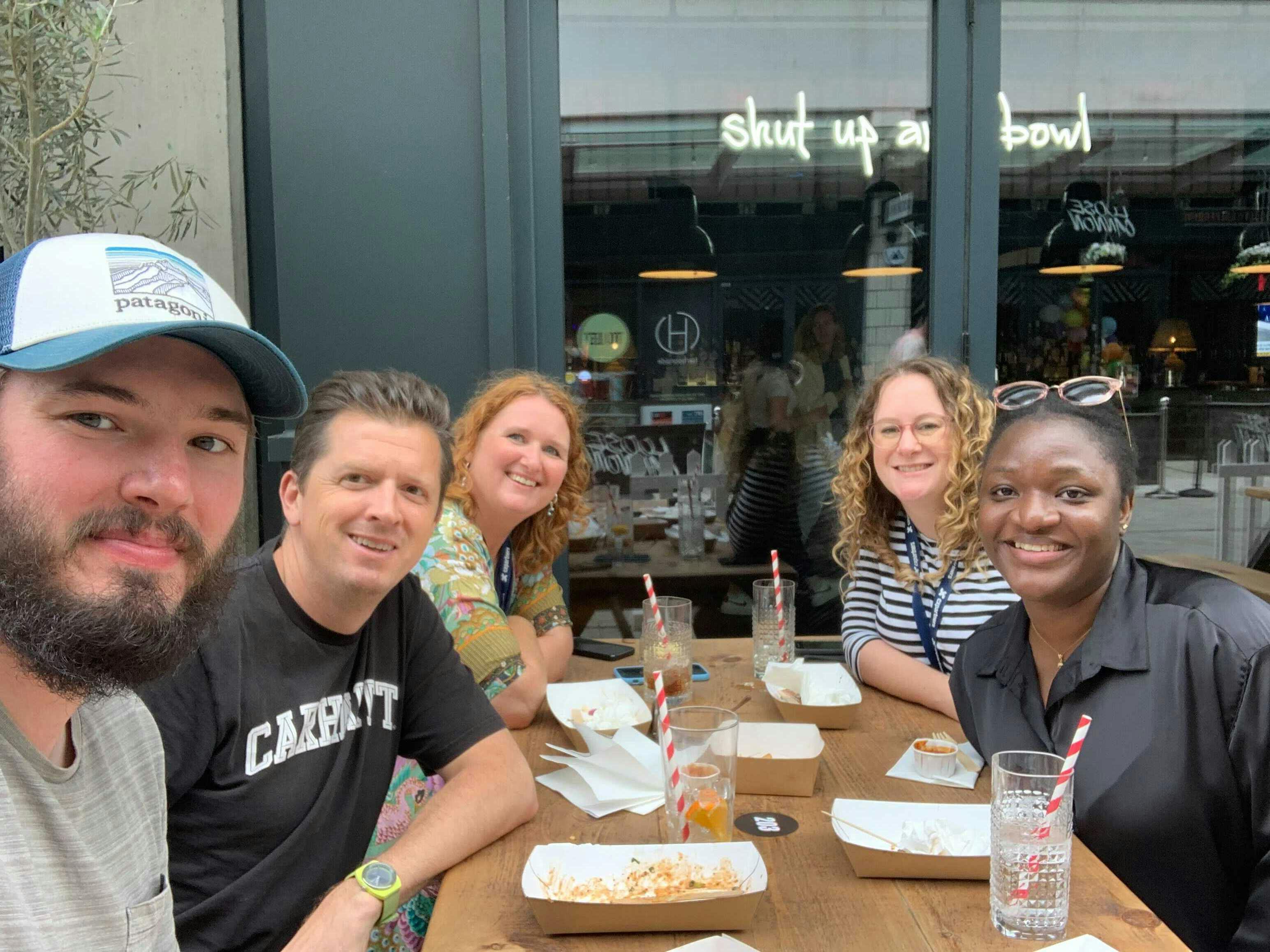 Growing business
Because of this, we are in a stronger position to deliver more business. We've had a fantastic year, getting the chance to work with amazing new clients, while continuing to partner with existing teams and services. 
Both the Maritime and Coastguard Agency and RM Partners were seeking changes in their business due to a direct link to changes in engagement because of Covid-19. The Maritime and Coastguard Agency, in partnership with Helastel, wanted to transform an in-person assessment process to become digital-first, while maintaining security, rigour and quality.
Our work with RM Partners has been particularly rewarding for our team, who have helped reduce the impact Covid-19 was having on high-risk and vulnerable groups getting diagnosed with cancer.
We have been working hard on Strategic Service Design and Discovery for NHS Adult Mental Health Services — mapping the Improving Access to Psychological Therapies service at a national level. Work included service mapping, user and service provider research, ideation and prioritisation of areas for digital (and other) interventions such as Community Outreach and Interoperability.
We were delighted to win more work with Service Design data and information mapping. This is across four NHS Mental Health pathways and technology ecosystems, to identify opportunities to improve how information is accessed and used and look for opportunities to improve the experience and interoperability. 
We continue to work on PHE's Talk to Frank drugs advisory service and we have also re-platformed Independent Parliamentary Standards Authority's digital ecosystem. On top of all of that, we're speakers too! We like to get out in the world and attend events that generate content and exposure which supports our brand and changes the conversation. 
We will be speaking in September at both Service Design in Gov and UX Healthcare workshops. We hope to see some of you there.
Final piece of the puzzle
Because of all this growth, we have a final piece of the Government Pod puzzle to fill and that's in the shape of a Bid/Account Manager. We hope you feel inspired by all of the wonderful work and the growing team, there is still so much to come in 2022. It's a great time to join us and help drive our sales and account development.